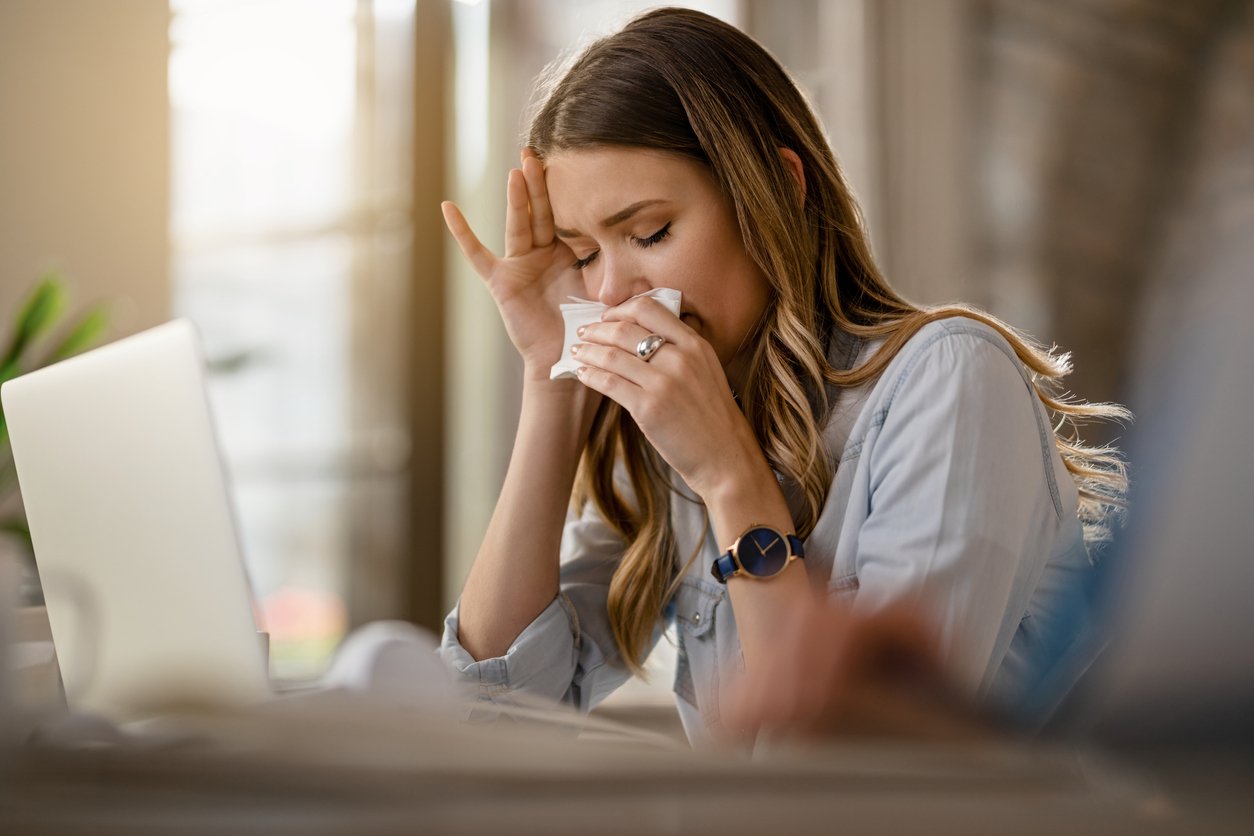 Sick leave is paid time off work when an employee, spouse, partner, dependent child or other dependent is unwell or injured.
In addition to the highly infectious Omicron COVID -19 variant, there are many illnesses this winter, so businesses and workers are under pressure. At MyHR, we have received many enquiries from clients about employees taking sick leave and managing absences, so we created this blog post to explain the details and answer common questions.
Minimum sick leave entitlements
Under the Holidays Act 2003, most employees are entitled to 10 days of sick leave a year (this increased from 5 days on 24 July 2021). Here's a breakdown:
Permanent employees - regardless of whether they work full-time or part-time once they have worked continuously for the same employer for 6 months.
Casuals - once they have worked for the employer for 6 months for an average of 10 hours per week, and at least one hour in every week or 40 hours in every month.
Independent contractors aren't entitled to sick leave.
Unused sick leave can accrue to a maximum of 20 days.
Sick leave is not pro-rated in any way, so part-time employees who might only work a few days a week still get 10 days' sick leave a year (and can accumulate up to 20 sick days a year).
The employer can offer or agree to better terms (e.g. more than 10 days' sick leave a year or a higher cap than 20 days), but you can't give less sick leave entitlements than these legal minimums.
If in any year the employee doesn't meet the criteria, they're not entitled to any new sick leave but can use their sick leave balance which may have carried over from the previous year. They may re-qualify for sick leave as soon as they meet the criteria again.
Notifying the employer
If an employee is sick or injured and intends to take sick leave, they should notify the business as soon as they can (either before they start work or as soon as possible afterwards).

A phone call is the best method of notification, but an email, text or another form of electronic message may be acceptable, depending on the rules and reporting lines your organisation has in place.
Proof of sickness
An employer can request proof that an employee is sick or injured once he or she has been on sick leave for three or more consecutive days. The proof is usually a medical certificate (recent advice from the Ministry of Business, Innovation and Employment says employers should accept the official Ministry of Health text message about a positive COVID -19 test result as proof).
In certain circumstances, an employer can request proof of illness or injury within three consecutive calendar days, but the employer must agree to pay the person's reasonable expenses, such as medical fees.
In all cases where an employer requires proof, you must inform the employee as soon as possible.
Payment
Sick leave payment is calculated using either relevant daily pay (what they would have earned if they were at work on the day) or, if that's not possible or practicable, average daily pay (a daily average of the employee's gross earnings over the past 52 weeks).
Find out more about relevant vs average daily pay at Employment.govt.nz.
Unused sick leave
Employees aren't entitled to any form of payment for any unused sick leave at the time their employment ends unless this is specified in their employment agreement.
---
Frequently asked questions
What if a person is sick and has no sick leave?
If an employee has not qualified for sick leave or has none left, the employer and employee can agree to:
use annual leave (if available), or
take unpaid leave.
From time to time employers may provide sick leave in advance of entitlement, but be aware that if the employee leaves the business before their entitlement rolls over, it could be difficult to recoup.
What happens when a person works a few hours and then goes home sick?
Sick leave is only described in the Holidays Act in terms of days, not part days or hours. So, if an employee worked until lunchtime and then went home sick, this is counted as using a whole day of sick leave.
However, the employee and employer can agree to break the entitlement down into hours or part days, e.g. the employer can agree to only deduct a half day of sick leave and pay them for this half sick leave day.
Can I ask an employee who says they are sick to come to work?
No, but you can ask them to provide proof of illness or injury (as above).
Your first consideration should be to look after people. Making someone come to work when they are sick is not good for many reasons, i.e. the person, the employment relationship, the business and its customers and clients. There is also the potential for employees to raise claims for the business failing to ensure their health and safety if sick workers are required and/or permitted to come to work.
Can I ask a sick employee to work from home?
No. The golden rule is that employers should never require (or knowingly allow) anyone to work while they are sick, regardless of whether or not working remotely is a possibility.
Employees can choose to work from home if they feel well enough or are improving, and we encourage employers to support them by providing options for working reduced or intermittent hours.
Especially with COVID-19, employees may have a few days being sick (and not working) and then return to work remotely as they have recovered but still can't come into work under public health guidelines. In this scenario, only the days they are unable to work are counted as sick leave.
We also advocate easing back into work, particularly if the employee has been hit hard by illness or injury, or they have asked for this. This might look like working half day (paid per usual) and half day sick leave. The easing back period will be subjective; it could be a couple of days, or might be a week or a month. In the case of COVID-19 infection, this approach may help the person avoid the effects of long COVID.
Are employees who test positive for COVID-19 (or have to self-isolate as contacts) eligible for sick leave?
Yes. They are still sick, so you could treat it as normal sick leave.
If the employee can't come to work because they are required to self-isolate for at least 4 consecutive calendar days and they can't work from home, you may be eligible for the government's COVID-19 Leave Support Scheme to help pay their wages (including payments for sick leave).
The person must be self-isolating because they either have COVID-19, are a contact of a person who has COVID, are the parent or caregiver of a dependant who has COVID or is a contact, or they or household members are in the category of people who are most at risk of severe illness from COVID (as advised by a medical practitioner).
If the employee must self-isolate while they wait for a COVID-19 PCR test result (not a Rapid Antigen Test result), you may qualify for the Short-Term Absence Payment.
Can I make an employee have a medical examination?
No, you can't force an employee to have a medical examination. However, if you have good reason to believe that someone at work is impaired, unwell or harmed for any reason (whether from exposure to workplace hazards or other causes) then you can request the employee undertake a medical examination, at your expense.
Do I have to give employees time off to see a doctor?
Employers aren't legally required to give employees time off work to visit the doctor or dentist unless the employment agreement says so.
If there is nothing specified in the employment agreement, the employer and employee can negotiate. If they cannot agree, the employee can schedule these appointments for a time outside of work hours. If the employee is sick or injured, they could use sick leave to attend the appointment.
What should I do if I suspect someone is abusing sick leave provisions?
Employers have the right to request proof of sickness or injury. If the person has been sick for less than three days in a row, you will have to meet the costs of them getting proof, e.g. a doctor's visit. If it's three or more days in a row, they will have to meet the costs.
If the person has been using a lot of sick (or other) leave, there might be wider issues involved, e.g. health issues, low motivation, harassment or bullying, or problems outside work. This is where open, honest communication and supporting the person can help. If you have an Employee Assistance Programme, recommending the person access their services could also be beneficial.
What if an employee doesn't or won't provide proof of sickness?
If an employee won't provide proof of sickness (or falsifies the proof), you could consider taking disciplinary action. However, we recommend first taking a more informal approach to work with the person to improve their conduct and/or performance.
Learn more about managing employee issues.
Do I need to have a sickness or sick leave policy?
No. Sick leave entitlements and payments are defined by law, so there's no need to outline these in company policy.
We do encourage businesses to have information, e.g. a section in the employee handbook, that covers procedures for how to notify the business, returning to work etc.
What happens if an employee gets sick while on annual leave?
If an employee (or their spouse, partner or dependant) gets sick or injured before starting scheduled annual leave, they can take the portion of annual holidays they're sick for, as sick leave.
If an employee (or their spouse, partner or dependant) gets sick or injured during annual leave, they can change the days they are sick to sick leave days rather than annual holidays, but only if the employer agrees.
The employer can ask the employee to prove the illness or injury before allowing them to change annual leave to sick leave.
I've heard of employers offering unlimited sick leave - is this a good idea?
Some employers, e.g. ANZ, offer sick leave beyond the legal minimum of 10 days, whether this is uncapped or managed at the company's discretion. Proponents say it improves staff wellbeing and morale, which boosts employee retention and recruitment. There is, however, the potential for abuse and any additional administration required.
Whether or not uncapped leave will work for your business will depend on your industry, structure, and culture.