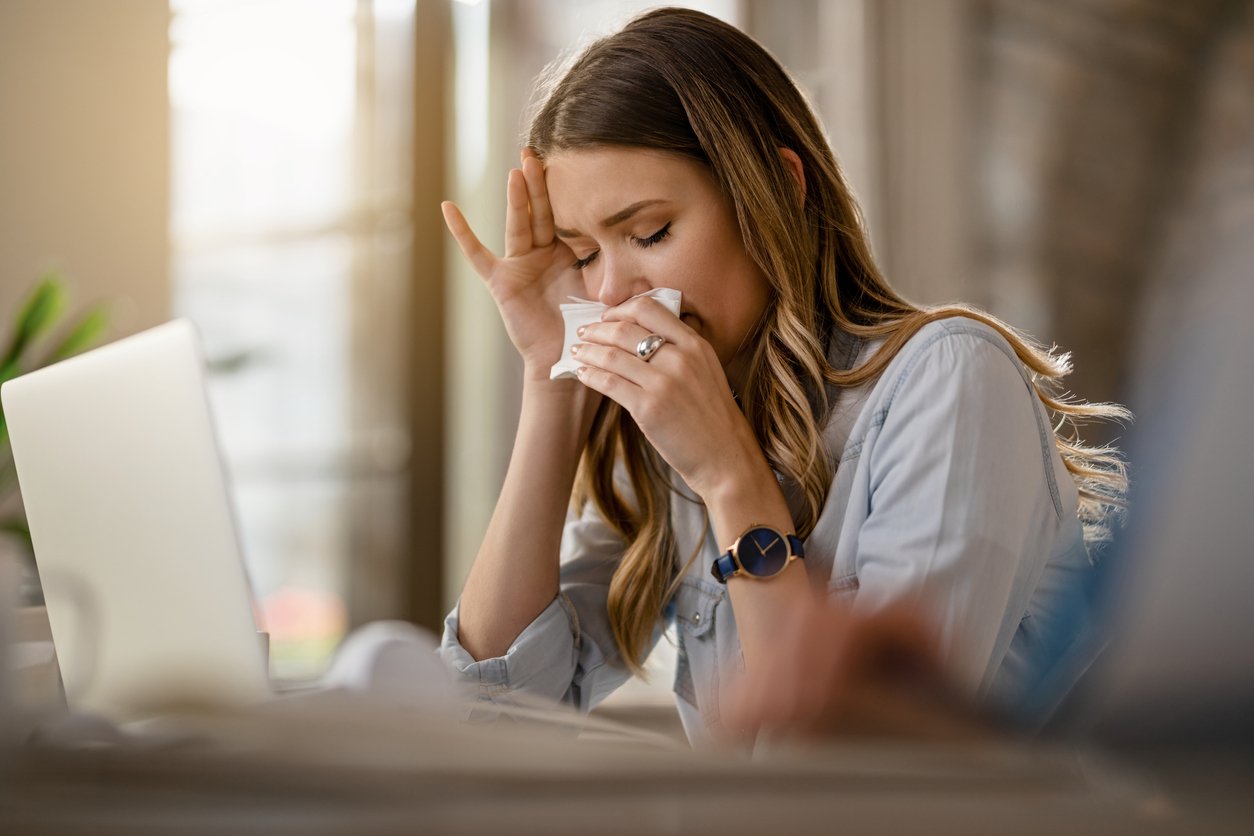 Sick leave is paid time off work when an employee, spouse, partner, dependent child or other dependent is unwell or injured (including stress and pregnancy).
In addition to the highly infectious Omicron COVID-19 variant, there are many illnesses this winter, so businesses and workers are under pressure. At MyHR, we have received many enquiries from clients about employees taking sick leave (or personal or carer's leave, as it's also known) and managing absences, so we created this blog post to explain the details and answer common questions.
Minimum sick leave entitlements
Under the National Employment Standards (NES), all employees except casuals are entitled to paid sick and carer's leave. A registered agreement, award, or contract can set out different entitlements to paid sick leave, but they can't be less than the NES minimum.
Leave is based on the person's ordinary hours of work:
Full-time employees are entitled to 10 days each year.
Part-time employees are pro-rata (calculated as 1/26 of an employee's ordinary hours of work in a year).
Sick leave starts accumulating from a worker's first day of work and the balance at the end of each year carries over to the next year.
Sick and carer's leave still accumulates when an employee is on:
Paid leave, e.g. annual leave and sick and carer's leave.
Community service leave (including jury duty).
Long service leave.
Sick and carer's leave doesn't accumulate when the employee is on any form of unpaid leave, e.g. unpaid annual, parental, etc.
Independent contractors aren't entitled to sick leave. Nor are casual employees, but they can take unpaid carer's leave (up to 2 days at a time) if an immediate family member or household member needs care or support due to sickness, injury, or an unexpected emergency.
Notifying the employer
If an employee is sick, injured, or needs time off to care for an immediate family or household member (because of illness, injury, or an unexpected emergency) and they intend to take sick leave, they should notify the business as soon as they can - either before they start work or as soon as possible afterwards.
A phone call is the best method of notification, but an email, text or another form of electronic message may be acceptable, depending on the rules and reporting lines your organisation has in place.
If possible, the person should also specify how long they will be off or expect to be off work.
Proof of sickness
An employer can request evidence that an employee is sick, injured, or needed to provide care or support to an immediate family or household member once the person has been off work for 1 day or less.
There are no strict rules on what type of proof needs to be given, but it must convince a reasonable person that the employee was genuinely entitled to sick leave. A medical certificate or statutory declaration (if for example, the person couldn't get an appointment to see a doctor) are the most common forms of evidence.
An award or agreement can specify when an employee has to give evidence and the type of evidence (this must always be reasonable in the circumstances).
In all cases where an employer requires proof, you must inform the employee as soon as possible. An employee who doesn't give their employer evidence when asked may not be entitled to be paid for their sick or carer's leave.
Payment
Sick leave is paid at the employee's base pay rate for each hour or part of an hour of leave they take. The worker is paid for the hours they would normally work during the period they were off work (not including overtime hours).
Base pay rates don't include separate entitlements, e.g. any loadings, allowances, penalty rates, or incentive-based payments.
Find out more about paying sick & carer's leave at Fairwork.gov.au.
Unused sick leave
Most employees aren't entitled to any form of payment for any unused sick leave but some awards and registered agreements do allow sick and carer's leave to be cashed out in limited circumstances, i.e. the worker has a balance of at least 15 days of untaken paid sick leave after cashing out, they are paid at least the full amount they would have been paid if they took the leave, and a separate agreement is made in writing.
---
Frequently asked questions
What if a person is sick and has no sick leave?
If an employee has not qualified for sick leave or has none left, the employer and employee can agree to:
use annual leave (if available), or
take unpaid leave.
From time to time, employers may provide sick leave in advance of entitlement, but be aware that if the employee leaves the business before their entitlement rolls over, it could be difficult to recoup.
Is there a maximum amount of sick leave a worker can take?
There is no maximum or minimum amount of paid sick or carer's leave that a worker can take at a time. They can take as much paid sick leave as they have accumulated.
Sick leave is a protected entitlement (i.e. an employee is protected from action such as dismissal being taken against them for taking sick leave), however, an employee is not protected if they are absent for 3 consecutive months or more than 3 months across a 12 month period, and has used all of their paid sick leave.
While this is the case, these matters are often quite complex and employers should be mindful that other dismissal protections, such as unfair dismissal or anti-discrimination law, could protect employees.
Can I ask an employee who says they are sick to come to work?
No, but you can ask them to provide evidence of illness or injury.
Your first consideration should be to look after people. Making someone come to work when they are sick is not good for many reasons, i.e. the person, the employment relationship, the business and its customers and clients. There is also the potential for employees to raise claims for the business failing to ensure their health and safety if sick workers are required and/or permitted to come to work.
Can I ask a sick employee to work from home?
No. The golden rule is that employers should never require (or knowingly allow) anyone to work while they are sick, regardless of whether or not working remotely is a possibility.
Employees can choose to work from home if they feel well enough or are improving, and we always encourage employers to support them by providing options for working reduced or intermittent hours.
Especially with COVID-19, employees may have a few days being sick (and not working) and then return to work remotely as they have recovered but still can't come into work under workplace health and safety regulations. In this scenario, only the days they are unable to work are counted as sick leave.
We also advocate easing back into work, particularly if the employee has been hit hard by illness or injury, or they have asked for this. This might look like working half a day (paid per usual) and half a day sick leave. The easing back period will be subjective; it could be a couple of days, or might be a week or a month. In the case of COVID-19 infection, this approach may help the person avoid the effects of long COVID.
Are employees who test positive for COVID-19 (or have to self-isolate as contacts) eligible for sick leave?
Yes. They are still sick, so you could treat it as normal sick and carer's leave.
If the employee doesn't have appropriate leave entitlements and has lost at least 8 hours or a full day's income because of COVID-19, they may be eligible for the Pandemic Leave Disaster Payment.
The person must be self-isolating or in quarantine because they either have COVID-19, are a close contact of a person who has COVID, are the parent or caregiver of a child 16 or under who is a close contact, or they are caring for someone who has COVID-19 or someone with disability or a severe medical condition who is a close contact.
Fairwork.gov.au has more information on sick leave and COVID-19.
Can I make an employee have a medical examination?
Generally, an employer can direct an employee to attend a medical examination to determine whether they are fit to perform the inherent requirements of their role, provided that the direction is reasonable. This includes:
Whether there's a genuine need, i.e. due to a long-term absence or where there is a concern that the employee may not be able to perform the inherent requirements of their role.
Whether the employee already provided adequate medical evidence.
Whether it is a high risk workplace or industry.
Whether there are concerns that the employee's injury or illness could impact others in the workplace.
Do I have to give employees time off to see a doctor?
Generally, employees can only use sick leave for pre-arranged medical consultations or elective surgeries if they are unable to work because of personal sickness or injury.
If they are fit for work, ​​you can explore other options with the employee, e.g. using another type of leave, making up the time later, or scheduling appointments for a time outside work hours.
What should I do if I suspect someone is abusing sick leave provisions?
Employers have the right to request reasonable evidence of illness or injury and if the employee doesn't provide it when asked, they may not be entitled to be paid sick leave.
Employees using paid sick leave the whole time can't be dismissed by their employer because of their absence, regardless of how long they're on leave.
If the person has been using a lot of sick (or other) leave, there might be wider issues involved, e.g. health issues, low motivation, harassment or bullying, or problems outside work. This is where open, honest communication and supporting the person can help. If you have an Employee Assistance Programme, recommending the person access their services could also be beneficial.
What if an employee doesn't or won't provide proof of sickness?
If an employee won't provide evidence of sickness or injury when asked, they may not not be entitled to be paid for their sick or carer's leave. Additionally, you can take disciplinary action against the employee for failing to comply with a company policy or reasonable management direction.
If the evidence they provide is not what a 'reasonable person' would be satisfied with, you could ask for consent from the employee to contact their doctor for further information or you could instruct them to attend an independent medical assessment.
Learn more about managing employee issues.
Do I need to have a sickness or sick leave policy?
Sick leave entitlements and payments are defined by law, so there's no need to outline these in company policy. However, we do encourage businesses to have policies in place clearly outlining notification requirements, whether or not a medical certificate is needed, and any return to work procedures.
What happens when a person works a few hours and then goes home sick?
Sick and carer's leave is deducted and paid for each hour (or part of an hour) of leave an employee takes, so someone who works for 2 hours and then goes home would have 2 hours deducted from their entitlement and be paid 2 hours sick leave.
What happens if an employee gets sick while on annual leave?
If an employee (or their spouse, partner or dependant) gets sick or injured before or during annual leave, they can change the days they are sick to sick leave days rather than annual holidays.
The employer can ask the employee to prove the illness or injury before allowing them to change annual leave to sick leave.
I've heard of employers offering unlimited sick leave - is this a good idea?
Some employers offer sick leave beyond the legal minimum of 10 days, whether this is uncapped or managed at the company's discretion. Proponents say it improves staff wellbeing and morale, which boosts employee retention and recruitment. There is, however, the potential for abuse and any additional administration required.
Whether or not uncapped leave will work for your business will depend on your industry, structure, and culture.