New Ask Us Bubble functionality
Your ability to connect to our team for expert HR support is now much easier with our new 'Ask Us' bubble. This new feature replaces the old 'Ask Us' conversation thread on the MyHR launchpad.
You can link your question to any active work request in MyHR, ensuring an accurate response from the right HR person. Or you can raise a new question.
It is a much cleaner, faster, and easier way to connect with us.
Minimised bubble state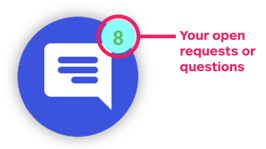 The new 'Ask Us' Bubble appears in the right hand corner of the screen and is available on every page of the MyHR app. The light blue circle and corresponding number represent the number of open work requests or questions you currently have with the MyHR team.
Open request list state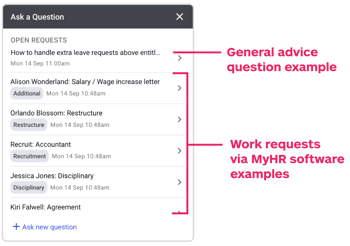 Clicking on the 'Ask Us' bubble provides a listing of all open work requests and questions.
Work requests you have generated via our software (agreements, disciplinary, recruit etc) have an additional 'descriptor' underneath their title and relate to a specific piece of HR work that is in progress. All general advice questions and corresponding conversation threads do not have this descriptor.
Specific request list state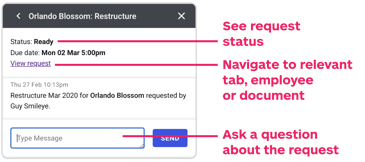 By clicking on a specific work request, you can easily view its current status and navigate to the correct tab, corresponding employee or document with a single click. The message field allows you to ask a question regarding this specific work request and will ensure the correct MyHR agent receives it.
All MyHR team responses through the Ask Us Bubble will generate an email to notify you, as will all work request status updates.
---
Who will respond when I ask a question?
New questions are allocated to the HR Advisor triage team who will either respond to you directly, assign your question to one of the HR Business partners, or redirect it to the correct open work request.
---
Who will respond to a question I ask on an existing open work request?
Whoever was assigned to the piece of work and who is managing your request.
---
Where are all my existing requests?
All of your open requests should have been transitioned into the new 'Ask Us' bubble. If this is not the case please contact the team via the 'Ask Us' bubble or at help@myhr.works.
---
How do I see where my request is at?
There are status updates inside each open work request within the 'Ask Us' bubble.
---
How do I best get in touch with the team?
Same as before — you can email help@myhr.works, ask a question in the 'Ask Us' bubble, or call 0800 MYHR NZ / 1800 MYHR AU
---
What if I need to make a change to a recent work request?
Find the recent work request in the 'Ask Us' bubble and send the team a message.
---
Where are my historical Ask Us conversations?
If there is a previous conversation you would like to refer back to please contact the team at help@myhr.works so we can retrieve it and make it available for you.