For many small and medium-sized companies, ensuring all your HR processes and documentation are in order and meet your legal obligations can be a tough challenge.
Everyone is so busy focusing on the day-to-day business, doing what needs doing, that crossing the Ts and dotting the Is can get put off.
When leading New Zealand website design agency, Zyber, signed up with MyHR in 2013, the comprehensive HR health check that comes as part of the MyHR set-up process gave them peace of mind.
Zyber co-founder James Sampson says reviewing all their company documentation was a job they knew needed doing, but tackling it seemed like a lot of work and it was often put off.
"MyHR onboarding deals with it," he says. "The MyHR health check took care of all company documentation, providing comprehensive recommendations on employment agreements, policies, job descriptions, and performance reviews."
He says it gave them certainty that the business is fully up-to-date with all current employment and health & safety laws, and that their policies and agreements are in line with the company's values.
"We have total peace of mind that all of our HR is in order."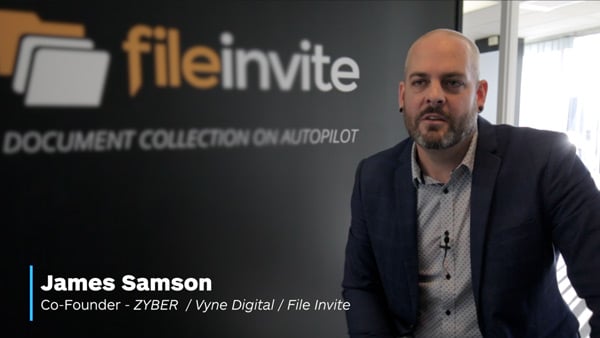 More than just a collection of files
Sampson was so impressed with MyHR, when he co-founded another two start-up companies - the digital marketing agency VYNE Digital and FileInvite, a file request and collection software company - he signed them straight up to MyHR as well.
He says while the main priority with Zyber was retrofitting to make sure they were compliant with NZ legislation, for the start-ups, it was all about getting things right up front so they are ready to grow.
"Obviously, as tech companies, we really want a tech solution," he says. "Old school, clunky HR services really don't cut it. But equally, a pure tech solution with no human interface was not going to be enough."
James says MyHR's combination of easy-to-use software and real human support made the most sense.
"It really is like having your own HR department or consultant on tap, without the cost."
Painless set-up process
Along with the comprehensive benefits of the HR health check, getting started with MyHR is a breeze.
"They take care of the software set-up, configuration, and payroll interface, and all users are trained," says James.
James says his businesses pride themselves on looking after their people and MyHR support the proactive approach the three companies take to keeping their employees engaged and providing cool work environments.
Just as importantly, he says MyHR really nail the compliance stuff, which is invaluable for tech companies that are often raising capital and subject to a lot of scrutiny.
"They write our employment agreements and policies, make sure everything is up-to-date with the law, while lining up with our different company needs and cultures."
Easily add a new employee
MyHR makes hiring new team members and getting them set up in the company's account really easy.
James says the intuitive software forms and time-saving features such as the job description database, manager selection, and department allocation help speed up the process.
The MyHR software builds every new employment agreement while the team at MyHR review it to check for any issues.
"That's when the magic really happens," James says. "They look for compliance with employment law and consistency with our own policies, and any issues, I just get a call."
For James, knowing there's a real HR professional on the other end adds a whole layer of certainty that they wouldn't get if they were using a software template service.
"I never have to type another contract or wrestle with a template and worry if I've got the law right."
The finished agreement document, complete with company logo, is loaded into the account with the offer letter and job description, and James receives an email alert. He signs online and the new employee gets an alert and can log-in to their own account and sign.
"It makes hiring a breeze, it saves us a tonne of time, and we don't have to worry about compliance. Our new staff really love it because it's seamless, slick, and it's all digital."
Organised, easy-access filing
All staff data, including employment agreements, is stored securely in the My People area of the MyHR account, which is arranged for a quick, easy view of current team members.
Similarly, the My Business area stores all company files, with only relevant, current documents visible.
James says this has replaced the awful, messy shared drives they had used in the past.
"Each area provides a bunch of quick links allow us to take any action from those main screens without spending ages trying to navigate the software."
Best thing for business
James says using MyHR has been one of the best things they have done in all three businesses.
"It just takes care of everything, and takes care of the people, so you can really focus on the business."
MyHR provides great value for money and James loves the fact they get unlimited service for a single fee, with no lock-in contracts.
"That's why I've signed up three companies. MyHR just make it easy."
WATCH THE FULL ZYBER / FILE INVITE / VINE DIGITAL CASE STUDY CLIP