When it comes to doing performance reviews, there's nothing worse than being bogged down by a process that focuses on filling out screeds of paperwork instead of having meaningful dialogue with your people.
For leading New Zealand women's fashion retailer, Max Fashions, switching to MyHR to led a transformation in how the company tracks and guides employee performance.
Lucy O'Fee, Max's Retail Operations Manager, says performance reviews were "a mess of paperwork" before they started using MyHR.
With over 320 staff spread across its 40 NZ stores and the head office in Ponsonby, Auckland, Max needed a performance review framework that was robust yet user-friendly enough not become a major chore for managers and staff.
"The structure of the MyHR performance review is simple and best-practice," Lucy says. "Administration is easy, allowing us to focus on the conversation."
MyHR has enabled Max to monitor performance consistently across the business and Lucy says this has lifted productivity, increased employee engagement, and provided more transparency.
Easy set-up
Setting up performance reviews in the MyHR platform is straightforward and incredibly flexible.
Max Fashions has created base templates for similar roles, such as store managers, which they can tweak to account for any local differences.
For more specialist positions, Lucy says they can just as easily set up individualised performance reviews.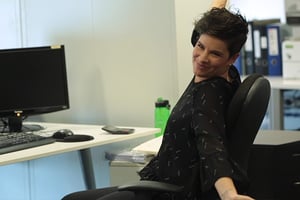 "The MyHR team of experts help us ensure we develop targeted performance reviews that align to our business strategy."
Max prides itself on its vision of inspiring confidence in women and having a positive impact on communities, and adds important company values to all reviews.
"This ensures the strong company culture remains at the heart of our discussions," says Lucy.
Regular check-ins
Managers and employees at Max keep things on track using regular check-in meetings, setting the frequency depending on business needs and any variations for different roles or individuals.
"If I have somebody who is struggling, we might set a weekly check-in, whereas others might be fine with a quarterly check-in," Lucy says.
The check-ins mean the focus is on current, ongoing performance and if any major changes come to light, managers can edit the objectives of the overall review.
"The check-in allows us to recognise our stars early and look after them, or pick up on problems and put measures in place to get improvement."
Lucy says they know that can always count on the MyHR team for help and advice about the reviews or any individual issues that crop up.
"Having the MyHR team available whenever we need them throughout the year means we can deal with issues that come out of performance reviews and keep everything running smoothly."
Taking note of achievements or issues
From early on, the Max team was quick make use of the smart notes feature in MyHR, which allows managers to quickly record performance comments, whether it is a great sales result, exceptional customer service, or a problem that needs to be dealt with.
When it comes time to complete a performance review, smart notes in the corresponding date range can be imported into the review wrap-up.
Lucy says this avoids managers having to try and remember all the details from the review period, keeping the conversation facts-based and reducing any bias towards recent events. "I can keep my feedback objective and relevant," she says.
Holistic review conversations
When the review cycle is complete, both managers and employees complete separate assessments, which are then shown together in the review.
"The MyHR software supports the human relationship and forms the basis of a meaningful performance conversation. It's great."Lucy says having input from both parties enables a much more thorough review, assessing the whole person: their performance, their behaviours, their development, as well the highs and lows of the cycle period.
Letting leaders lead
For Max Fashions, signing up to MyHR has proved to be an excellent decision, improving HR services and saving the company money.
MyHR handles all Max's day-to-day HR administration from creating employment agreements to writing letters and policies, and Lucy says having the backing of dedicated team means they can resolve complex issues and answer daily employment questions.
"The combination of software and human support is amazing. It allows my regional managers and store managers to be true leaders, knowing they have the backing of quality HR support and software."
WATCH THE FULL MAX FASHIONS CASE STUDY CLIP
---
Frequently asked questions about performance reviews
How many objectives should I put in a performance review?
We recommend a maximum of 4-6 objectives for each performance period.
More than this makes the process overly complicated and time-consuming, which lessens its effectiveness.
How long should employees have to achieve the objectives?
The objectives should align with the duration of the review period, which can be any period you choose.
Many reviews take place over a full financial or calendar year, with regular check-ins throughout. Others may be shorter and aligned to the length of a specific project or seasonal period.
The timeframe should be meaningful. If you're setting a performance review for someone whose job requires them to work on long-term projects, then don't set the review for 3 months - they won't have been able to achieve anything in that time.
Likewise, in a retail or hospitality environment, monthly or quarterly reviews could work best because your employees can quickly make changes and achieve sales targets.
Who has the final decision on ratings or scores?
Ultimately, this is at your discretion as a manager.
A performance review should contain no surprises for an employee. If they've been succeeding, then they'll know that they've hit their targets, and also will have given them positive feedback along the way.
If they've been struggling, they'll know they haven't hit their targets, and you will have been checking in with them to understand what support and training they might need.
This means your final rating shouldn't be a surprise, either. If your employee disagrees, hear them out, and make sure that you're making a fair decision, but you don't have to get them to agree.
Get more answers to common performance review questions.